AARC EVAC Controllers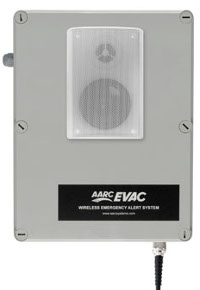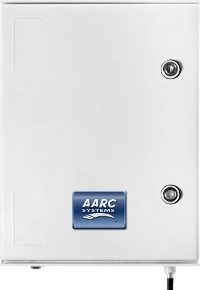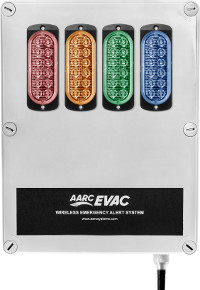 Currently most hard-wired systems utilise a P.A. System, these systems have a range of inherent risks i.e. if mains power fails or the P.A. cabling is damaged by fire etc., you no longer have a working emergency alert system. The deployment of AARC-EVAC™ Controllers mitigates these risks, even if one unit is damaged by a fire or other causes the rest of the units will still work.
Our standard AARC-EVAC Controllers receive emergency alert messages that have been triggered by AARC-EVAC remotes. From there, we can build you a tailored emergency alert solution by adding one, any two or all of the following options: audio speakers, visual alert beacons and repeaters.
The unit is designed to operate as a single unit or as part of a network of self-contained AARC-EVAC™ Wireless Linked Evac Controllers. They incorporate an in-built UPS and are fully self-contained. AARC EVAC Controllers are available in indoor and outdoor versions.
When operating the controllers as part of a network, different evacuation instructions can be broadcast in different locations.
---
Repeaters
Repeaters are used to re-transmit the message to any Controller outside of the range of the remote which originally triggered the message.
---
Speakers
AARC-EVAC™ Controllers can be supplied with between two, three or four external horn and/or box speakers. These speakers are wired to the Evac Controller. When triggered the controller's Wireless Receiver activates standard emergency alert sirens and customisable audio messages. Speakers can be used in conjunction with Visual Alert Beacons.
Also available are Controller units with an internal box speaker. These units feature a box speaker set in the EVAC Controller box, and are only available for indoor use.
Indoor/Outdoor horn speaker 8Ω 10W with mounting bracket. Size: (W)200 x (H)136 x (D) 206mm.
Indoor wall mount box speaker 8Ω 15W with mounting bracket. Size: (W)150 x (H)198 x (D) 128mm.
---
Visual Alert Beacons
Visual Alert Beacons provide a visual representation of the message the controller has received, to convey the alert to hearing impaired persons or in areas where noise pollution may prevent audio notification. Emergency Alert Beacons consist of four vertical beacons ( Red, Amber, Green, and Blue ) attached to the front of the Repeater Unit.
When a message is triggered one of the following beacons will flash: red for "Evacuation", amber for "Duress" or "Alert", green for "First Aid:, and blue for "Lockdown".
When there are no active alerts the beacons are clear.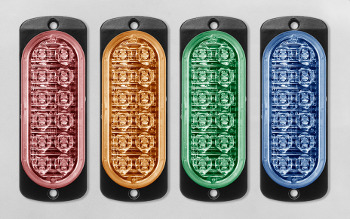 ---
Outdoor
AARC Systems has further expanded the range of AARC EVAC Controller to include outdoor units with an IP66 rated Polyester/Fiberglass enclosure. These sturdy units come in wall mount or pole mount versions.
2-4 horn speakers are supplied with outdoor units as box speakers are not suitable for outdoor use.
Outdoor Controllers are available in a solar powered version where power to keep the in-built UPS battery charged is supplied by a 20W solar panel. In all other outdoor units, power to keep the UPS charged is supplied by 110-240VAC mains supply hardwired into the unit.
High intensity LED's ensure the beacons are suitable for use outdoors even in bright sunlight.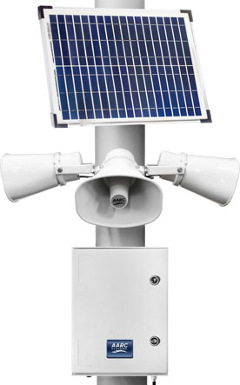 ---
Features
Secure operation with over 4 billion unique 32Bit digital codes
Customisable with 2-4 horn/box speakers or one inbuilt box speaker.
Visual Alert Beacons can be added to the unit
Indoor & Outdoor cases
Wall mount and pole mount (outdoor only) options
Solar powered options for outdoor use
---
Specifications
Operating Range
> 400m Open Air/Line of Sight
Through & Inside Buildings – Range is dependent on the environment,obstacles, walls, structural materials used, etc.
50-100m (Typical)
Internal UPS Battery Backup
7Ah 12V Battery
Antenna
320mm (L) with 'N' Type plug
Indoor
| | |
| --- | --- |
| Power Supply | 15V DC 2A Plug Pack with 5.5mm x 2.1mm DC Plug |
| Dimensions | 325mm (H) x 250mm (W) x 132mm (D) |
Outdoor
Power Supply
20W Solar Panel or
110-240VAC Mains supply hardwired into the unit
Dimensions
400mm (H) x 300mm (W) x 200mm (D)
---
Resources
AARC EVAC Product Catalogue – includes links to Specifications Sheets for all AARC EVAC Controllers